5 Tips on Where to Meet Women for Beginners Learning the Game
Online dating not working for you?
Well, I advise the saints to avoid online dating because the effort required just to meet up with the chick. Even then, she may flake. Really, online dating should only be a small percentage of your dating portfolio if you want to leverage it.
Congrats on making the right choice by choosing to approach. It's a beautiful thing. Also, don't listen to these PUA squares talking about choosing signals. If you want to talk with a chick, do it.
However, a beginner may not have that level of confidence just yet. No worries. I'll set you up for success by advising you where are the best places to approach women and what locations to avoid if you're just starting out or getting back in the game.
Start by attending……
1. Environments Where Women Pay for Participation
These are locations like college campuses, gyms, yoga classes, or paid workshops and networking events. What makes these places ideal is due to the level of trust women feel as attendees.
It's very unlikely for a square to be at these locations. No danger in sight. Remember women like security and safety.
All that's left is on you. Be brave enough to approach and make your first impression count. As the big homie says, "the way you start with a chick is the way you end with a chick."
Next try……
2. Environments Where You Have to Communicate with Women
This tip is similar to the previous one. The only difference is that you're setting yourself up to interact with women.
These are environments where you're learning a new skill with women mutually. Like a salsa class, a tango class, a ceramics class, or even a Spanish class. Activities like these encourage participants to work amongst each other.
For example, a salsa class. You will need to practice choreography which requires both parties to dance.
Thus, opening the door for you to spread the game like peanut butter. Building up your familiarity with her, and slowly cracking her as you go Ricko Suave on the dance floor.
Another way to get into the game is through…..
3. Your Personal Social Network
Yes, your friends and family can bring in an abundance of women. This is why it's important to be social as it can open the door for you.
Your cousin, a friend, or even the neighbor across the street may have an attractive friend. Play your cards right and your connection could serve as your wingman/woman.
This only plays in your favor. Try being more social by meeting the people around you. Go to reunions, parties, or any local social gathering to start increasing your social connections.
Alright player, I'll give you advice on a few places to avoid as you start using your mouth piece.
4. Avoid Places Where Women Expect Men to Game
For example, the club, a pub, or a bar. Anywhere where women expect to be hit on. These are places that might be difficult for a beginner.
The women at these locations are swatting down men like flies. Left and right. If your game isn't tight, well you might as well call it a night.
It's possible to convert women at these locations. You just have to know your strategy. But, feel free to shoot your shot.
Cast your line man. I won't hold you back.
Next,
5. Avoid Places Where She's On The Move or Busy
If a woman is on the move, such as shopping at the grocery store, it might be hard for you to lay the game on her.
She just wants to buy her things and leave, so she may not give you air time. The same can be said if she's focused on an important task. Take studying as an example.
If she's in the library studying for an exam, it may be intrusive for you to try and walk up on her. Thus, lowering your chances of success.
Don't worry, player. Have patience. You'll catch her at the right time.
Check this out. I'll even give you a bonus tip…
Bonus Tip: Qualify The Women You Speak To
Yes! Remember to have some respect for yourself. Be selective. If you walk up on a fine chick and you don't think it will be meaningful for you to try and convert, then don't.
Just end your conversation and thank her for giving you air time. Your time is valuable don't just give it away that easily. Some aren't meant to be slayed.
Remember, saint, you live to game another day. Don't worry if one gets away because there will always be another one. One that fits into your program and that's worth your time.
Where Can You Get Help With Women?
Thank you for reading this blog post in its entirety. I am Marquett Davon Burton, an international entrepreneur who has run multiple businesses within the technology and fashion sector. And, more importantly, I've spent a lifetime thrilling women around the world, of every color and social strata.
Here are some additional resources to help you on your own journey:
If you haven't already, subscribe to my YouTube channel, The Saint and the Sinnerfor hours of free game to help you in your romantic life.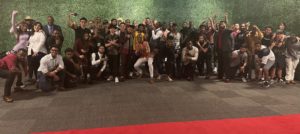 You are also welcome to join SaSN. We are a group of individuals (both men and women) who strive to be the greatest of who we are by showing the greatest of who we are.
As a marquettism.com member, you will have hours of exclusive content where I breakdown the game in practical steps, access to my genuine infield footage, and q & a videos from women that I've gamed up personally.
We also have resources to help you in other areas in life such as business and personal development. I also run a Patreon where you can find highly practical, exclusive content. My best selling book,The Black Box, is another resource to help in making a better life for yourself.
Finally, work with me personally by booking a consultation.
Again thank you for reading my blog post. I'd like to invite you
to read the creed of the SaSN and please know this is true of you as you read this out loud:
"I'm going to be who I truly am, because I'm remarkable.
And, I will strive every moment to show the greatest part of who I am."
Peace to the saints!